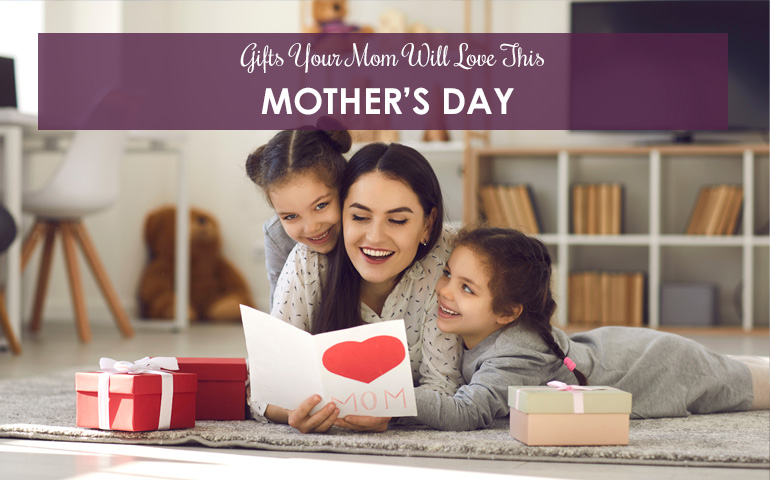 Gifts Your Mom Will Love This Mother's Day
Mark your calendars! Mother's Day is this Sunday, May 9th -- and after this crazy year, this Mother's Day is a great time to shower your mother in some much-deserved attention. Whether you see her everyday or she lives far away, you can show your appreciation with a gift that shows your gratitude. Having a hard time picking out the perfect gift? Well, we've created a 2022 Mother's Day Gift Guide to help you find a thoughtful gift she will be sure to love!
Personalized Coupon Booklet
This DIY coupon book is easy and inexpensive, perfect for children or teens to make for their moms. Grab a pen and paper and start creating your own personalized coupons for your mom. Some coupon examples include: A night off from cooking, a week's worth of laundry done by you, breakfast in bed, etc. Be creative -- the options are endless, but be sure to include coupons your mom will actually love and appreciate. If you're having a hard time getting creative, you can find free printable coupon templates on Google or Etsy!
Flowers
You truly can't go wrong with gifting a beautiful bouquet of flowers on Mother's Day. Flowers may be the safe option, but your Mom will be sure to love them all week long. If your mom lives out of town, you can take advantage of the many flower delivery websites like 1-800-Flowers.com.
A Giftcard to her Favorite Restaurant
Yet another easy option, a gift card for her favorite lunch or dinner spot will be sure to make her smile from ear to ear. Even better, plan a time that you can go to the restaurant together. She will appreciate the quality time with you!
Personalized Jewelry
From necklaces to bracelets to earrings, your mom will be sure to love her personalized bling. Etsy is the perfect place to find custom unique pieces of jewelry with names, birthstones, photos and more.
A Portable Photo Printer
A photo printer is a more expensive gift option, but definitely worth the money! Your mom will love how easy it is to print pictures on the spot and capture memories forever. Portable photo printers are small and easy to carry around for any photo worthy moment.
Air Fryer
Does your mom love to experiment in the kitchen? If she does, an air fryer may be a practical gift! Air fryers are all the rage now, and rightfully so as they create a healthy alternative to deep-fried foods.
Cricut
If your mom is an arts and crafts queen, then she definitely needs a Cricut! A Cricut is a cutting machine that can cut several different materials for craft projects like paper, vinyl and cardstock. She can connect the Cricut to her computer wirelessly, create or download designs and send them to the Cricut for cutting. She can make custom t-shirts, mugs, decals and more on the Cricut machine.
Espresso Machine
Moms run on coffee. How do you think they become superheroes? And when it comes to their daily cup of joe, they deserve something special. A high quality espresso machine is a perfect gift for your high quality mom.
Scrapbook
You may not have created that many new memories with your mom this year, so now is the perfect time to reminisce on old memories. A personalized scrapbook is an easy and inexpensive gift your mom will be sure to cherish forever. You can make it yourself or use a website to help you create a layout like www.shutterfly.com.
Charcuterie Board
Charcuterie boards have become a massive trend on social media in the past year making it the perfect gift for your mom this Mother's day. She can get creative with meats, cheese, fruits, nuts and more for the perfect board. Charcuterie boards are great for entertaining, so it's the gift that keeps on giving!
Weighted Blanket
A durable, quality weighted blanket will help your mom get some much needed shut-eye. Weighted blankets come in a variety of weights, sizes and colors.
Wine Subscription
Is your mom a wine connoisseur? Then a wine subscription service may be a great gift idea. Winc.com is a common wine subscription website that ships 3 bottles of wine to your doorstep for $39 a month. Each month your mom can customize her order and rank her favorites.
Although Mother's Day is almost upon us, you still have plenty of time to pick out a meaningful gift. Our 2022 Gift Guide was made with all moms in mind, so any of these 12 gift ideas will brighten up her Mother's Day and make her feel special.