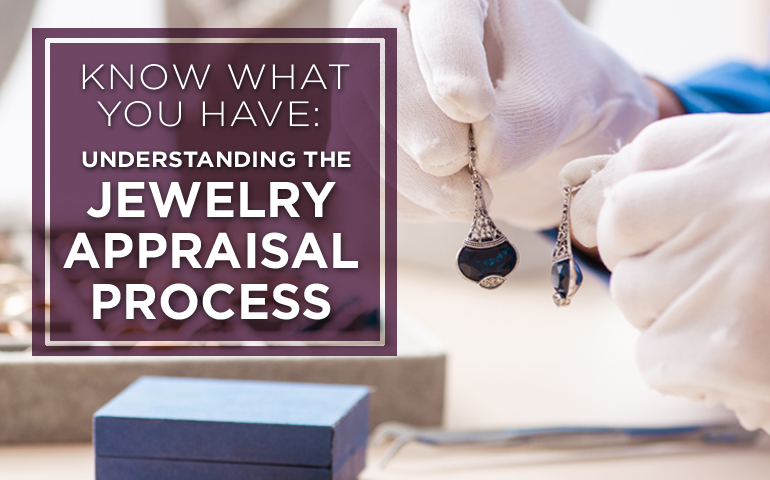 Know What You Have: Understanding the Jewelry Appraisal Process
We're talking fine jewelry: your diamond engagement ring, the vintage Rolex that was passed down, the black-pearl necklace you got on vacation. Sure, you most likely have a comprehensive insurance policy covering your house and furnishings. But homeowners' or renter's insurance doesn't automatically mean every item under your roof is insured. In fact, some policies specifically exclude jewelry and other valuables. Here's a quick guide on how to make sure your jewelry is protected.

Know What You Have
To properly insure expensive jewelry, the first step is to know what you have. Many people put jewelry away in a box and rarely consider its value or how they would file a claim in the event of a house fire or burglary. The first step is to take an inventory of your jewelry items, along with the other personal possessions and valuables in your home.

Get An Appraisal
Most jewelry stores will include an appraisal with a purchase, but it is always a good idea to get a second opinion to know what your jewelry is worth. This information will be very important when trying to get it covered. If you have a receipt of purchase for your jewelry items, keep those receipts with your appraisal documents. Both pieces of information – what you paid for each piece and its appraised value – can be very helpful in the event of a loss.

Work With an Insurance Agent
Working with a trusted insurance agent is the next step in protecting your fine jewelry. To add these items to your homeowners' insurance policy, you will typically need to add additional insurance for each piece; if you have a valuable engagement ring, and your spouse has an expensive watch, for example, you will need to list each piece separately.

Know What Is Covered
If you are looking for engagement ring insurance or jewelry insurance for an entire collection, note that coverage varies from company to company. If you are prone to losing things, you should look into an insurance policy that will cover loss or damage.
If you don't have homeowners' or renter's insurance, you may be able to purchase stand-alone coverage from a trusted insurance provider that specializes in insuring jewelry. Some jewelers offer such policies or can recommend a company that does.
All this talk about jewelry on a real estate blog... well maybe you haven't heard about our New Neighbor Program? Berkshire Hathaway HomeServices The Preferred Realty offers its clients exclusive discounts from area vendors, including Orr's Jewelers, the perfect place to take action on these suggestions. Want to know more? Ask your real estate agent for more information!
Berkshire Hathaway HomeServices does not endorse any of the products or vendors referenced on this material. Any mention of vendors, products, or services are for informational purposes only.